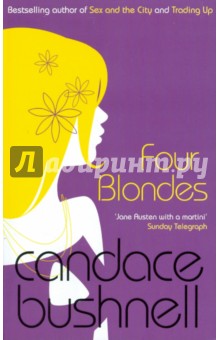 Автор:
Bushnell Candace
Издательство:
Time Warner
Год издания: 2008
ISBN: 978-0-349-11103-3
Наличие:
отсутствует
Издание полностью на английском языке. Four Blondes charts the romantic intrigues, liaisons, betrayals and victories of four modern women: a beautiful B-list model finagles rent-free summerhouses in the Hamptons from her lovers until she discovers she can get a man but can't get what she wants; a high-powered magazine columnist's floundering marriage to a literary journalist is thrown into crisis when her husband's career fails to live up to her expectations; a 'Cinderella' records her descent into paranoia in her journal as she realises she wants anybody's life except her own; an artist and aging 'It girl' — who fears that her time for finding a man has run out — travels to London in search of the kind of love and devotion she can't find in Manhattan... Studded with her trademark wit and stiletto-heel-sharp insight, Four Blondes is dark, true, and compulsively readable.
Также рекомендуем
Four Blondes

Sex and the

The General's Daughter

Trading Up

Sex and the

Sex and the

Lipstick Jungle (зеленая)

Lipstick Jungle

The Vampire Lestat

The General's Daughter

Four Blondes

Firestarter

Книга недели

Настоящее издание содержит текст Федерального закона от 13.07.2015 № 218-ФЗ «О государственной регистрации прав на недвижимое имущество и сделок с ним» с изменениями и дополнениями на 2017 год. К изменениям, вступающим в силу позднее, вместе с редакцией нормы, действующей на эту дату, приводится норма в новой редакции и указывается дата, с которой она вступает в силу.