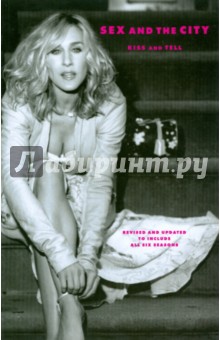 Автор:
Sohn Amy
Издательство:
Time Warner
Год издания: 2008
ISBN: 978-0-7434-5730-7
Наличие:
отсутствует
After six wildly successful and critically acclaimed season, HBO's Sex and the City lowered its curtain with an extraordinary finale befitting its remarkable run. Now Sex and the City, the first true comedy about sex and love from a female point of view (and the show that made cosmopolitans and designer shoes part of every single woman's night out), lives on in this luscious, uniquely entertaining, and one-of-a-kind book. Sex and the City: Kiss and Tell, the official companion book, celebrates the show with behind-the-scenes stories on all six seasons and original interview with each of the primary actors. Ever wonder which designer made that outrageous outfit of Carrie's? What real-life stories inspired those shocking episodes? How many dates the fabulous foursome have really been on? Packed with over 750 full-color photographs, this stunning volume will answer all these questions and more with information not available anywhere eels. Topped off with a introduction by Sarah Jessica Parker, Sex and the City: Kiss and Tell will excite anyone who has experienced even the slightest flirtation with the sexiest, funniest show on television. Издание полностью на английском языке.
Также рекомендуем
Four Blondes

Sex and the

The General's Daughter

Trading Up

Sex and the

Lipstick Jungle (зеленая)

Lipstick Jungle

Four Blondes (фиолетовая)

The Vampire Lestat

The General's Daughter

Four Blondes

Firestarter

Книга недели

Настоящее издание содержит текст Федерального закона от 13.07.2015 № 218-ФЗ «О государственной регистрации прав на недвижимое имущество и сделок с ним» с изменениями и дополнениями на 2017 год. К изменениям, вступающим в силу позднее, вместе с редакцией нормы, действующей на эту дату, приводится норма в новой редакции и указывается дата, с которой она вступает в силу.