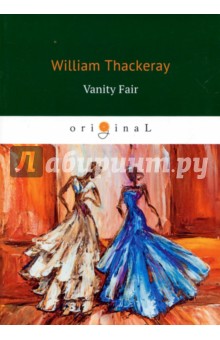 Автор:
Thackeray William
Издательство:
Т8
Год издания: 2018
ISBN: 978-5-521-06225-6
Серия:
Original
Наличие:
на складе
Written in 1848, Vanity Fair is an excellent satire of English society in the early 19th Century. Thackeray states several times that it is a novel «without a hero», and at a couple of points tries to claim that Amelia, a good person but who inevitably comes across as rather wishy-washy, is the heroine. Thackeray apparently saw people as «abominably selfish and foolish», and this negative view comes across loud and clear with his use of vicious vocabulary, and his unremittingly dark portrayal of human nature. The author's voice is continually present, and his wry observations do contribute to making the novel vastly entertaining. They were also intended to make it instructive to his readers.
Другие товары в серии «Original»
Moll Flanders
The Island Pharisees

The Ghost Kings

The Farther Adventures

Short Stories. The

Short Stories. The

Short Stories. Lizzie

Le cote de

Flappers and Philosophers

Cousin Phillis

All the Sad

A Dark Night's

Книга недели

Настоящее издание содержит текст Федерального закона от 13.07.2015 № 218-ФЗ «О государственной регистрации прав на недвижимое имущество и сделок с ним» с изменениями и дополнениями на 2017 год. К изменениям, вступающим в силу позднее, вместе с редакцией нормы, действующей на эту дату, приводится норма в новой редакции и указывается дата, с которой она вступает в силу.