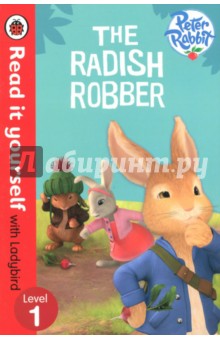 Издательство:
Ladybird
Год издания: 2018
ISBN: 978-0-7232-8052-1
Серия:
Read it Yourself
Наличие:
отсутствует
Based on the new Peter Rabbit animated TV series. Peter and Benjamin find some radishes one day, but then they start losing them! Is there a radish robber about?For over thirty-five years, the best-selling Read it yourself with Ladybird has helped children learn to read.All stories feature essential key words and story-specific words are repeated to practise throughout. They are designed to be read independently at home or used in a guided reading session at school. All titles include comprehension puzzles, guidance notes and book band information for schools.This Level 1 title is suitable for very early readers who are ready to take their first steps in reading real stories. Each simple story uses a small number of frequently repeated words.
Peppa Pig Story

Mystery Drone, the
Peter Rabbit: Treehouse

Meet My Family

Talent Show, the

Peter Rabbit: The

Peppa Pig: Going

Amazing Trains

Amazing Aircraft

Escape To The

Kung Fu Panda:

In the Ocean.

Книга недели

Настоящее издание содержит текст Федерального закона от 13.07.2015 № 218-ФЗ «О государственной регистрации прав на недвижимое имущество и сделок с ним» с изменениями и дополнениями на 2017 год. К изменениям, вступающим в силу позднее, вместе с редакцией нормы, действующей на эту дату, приводится норма в новой редакции и указывается дата, с которой она вступает в силу.