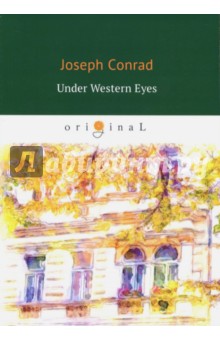 Автор:
Conrad Joseph
Издательство:
Т8
Год издания: 2018
ISBN: 978-5-521-06452-6
Серия:
Original
Наличие:
на складе
Razumov unwittingly becomes embroiled in a revolutionary conspiracy when he gives refuge to a fellow student who assassinated a public official. Increasingly enmeshed in the radical's political intrigue, he betrays the anarchist who had placed blind faith in him. The authorities then dispatch Razumov on a mission to spy on the revolutionary's sister and mother. A fascinating character study, Under Western Eyes hauntingly reveals Razumov's preoccupation with questions of decency and accountability when confronted by the equally powerful values of human integrity and moral strength.
Другие товары в серии «Original»
Wyandotte; or, The

Typhoon and other

The Wept of
The Oak Openings;

Youth: a Narrative

Within The Tides
Wisdom's Daughter

Vilette

Victory

Twixt Land &

The Ways of

The Wanderer's Necklace

Книга недели

Настоящее издание содержит текст Федерального закона от 13.07.2015 № 218-ФЗ «О государственной регистрации прав на недвижимое имущество и сделок с ним» с изменениями и дополнениями на 2017 год. К изменениям, вступающим в силу позднее, вместе с редакцией нормы, действующей на эту дату, приводится норма в новой редакции и указывается дата, с которой она вступает в силу.