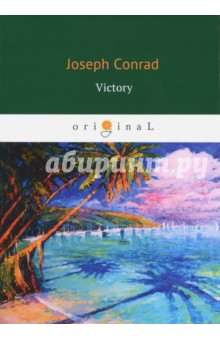 Автор:
Conrad Joseph
Издательство:
Т8
Год издания: 2018
ISBN: 978-5-521-06453-3
Серия:
Original
Наличие:
на складе
Axel Heyst, a dreamer and a restless drifter, believes he can avoid suffering by cutting himself off from others. Then he becomes involved in the operation of a coal company on a remote island in the Malay Archipelago, and when it fails he turns his back on humanity once more. But his life alters when he rescues a young English girl, Lena, from Zangiacomo's Ladies' Orchestra and the evil innkeeper Schomberg, taking her to his island retreat. The affair between Heyst and Lena begins with her release, but the relationship shifts as Lena struggles to save Heyst from the detachment and isolation that have inhibited and influenced his life. Victory is both a tale of rescue and adventure and a perceptive study of a complex relationship and of the power of love.
Другие товары в серии «Original»
La prisonniere

Captains Courageous

Tommy and Co

Paul Kelver

Diary of a

Watch and Ward

The Tragic Muse
The Reverberator

The Princess Casamassima

The Portrait of

The Portrait of

The Outcry

Книга недели

Настоящее издание содержит текст Федерального закона от 13.07.2015 № 218-ФЗ «О государственной регистрации прав на недвижимое имущество и сделок с ним» с изменениями и дополнениями на 2017 год. К изменениям, вступающим в силу позднее, вместе с редакцией нормы, действующей на эту дату, приводится норма в новой редакции и указывается дата, с которой она вступает в силу.