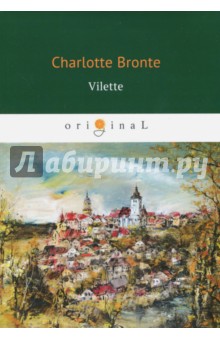 Автор:
Bronte Charlotte
Издательство:
Т8
Год издания: 2018
ISBN: 978-5-521-06430-4
Серия:
Original
Наличие:
на складе
Villette draws on her profound loneliness following the deaths of her three siblings. Lucy Snowe, the narrator of this book, flees from an unhappy past in England to begin a new life as a teacher at a French boarding school in the great cosmopolitan capital of Villette. Soon Lucy's struggle for independence is overshadowed by both her friendship with a worldly English doctor and her feelings for an autocratic schoolmaster. Bronte's strikingly modern heroine must decide if there is any man in her society with whom she can live and still be free.
Другие товары в серии «Original»
Wyandotte; or, The

Typhoon and other

The Wept of
The Oak Openings;

Youth: a Narrative

Within The Tides
Wisdom's Daughter

Victory

Under Western Eyes

Twixt Land &

The Ways of

The Wanderer's Necklace

Книга недели

Настоящее издание содержит текст Федерального закона от 13.07.2015 № 218-ФЗ «О государственной регистрации прав на недвижимое имущество и сделок с ним» с изменениями и дополнениями на 2017 год. К изменениям, вступающим в силу позднее, вместе с редакцией нормы, действующей на эту дату, приводится норма в новой редакции и указывается дата, с которой она вступает в силу.