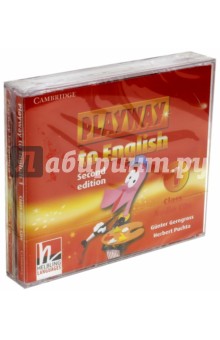 Автор:
Gerngross Gunter
,
Puchta Herbert
Издательство:
Cambridge
Год издания: 2015
ISBN: 462-3-7207-7968-9
Наличие:
на складе
Pupils acquire English through play, music and Total Physical Response, providing them with a fun and dynamic learning experience. At Level 1 children learn to use English confidently through listening and speaking before they are taught to read and write in levels 2, 3 and 4. The course features a wide range of support materials for teachers, including a DVD with entertaining sketches and animated cartoon stories, presenting target language in an amusing and motivating way. The course comes with a set of illustrated story cards and flashcards to help children remember what they've learned.


Также рекомендуем
Fun for Starters,

Fun for Movers
Fun for Flyers

Fun for Starters
Fun for Movers
Compact First for

International dictionary of

Professional English 365

Professional English 365:

Книга недели

Настоящее издание содержит текст Федерального закона от 13.07.2015 № 218-ФЗ «О государственной регистрации прав на недвижимое имущество и сделок с ним» с изменениями и дополнениями на 2017 год. К изменениям, вступающим в силу позднее, вместе с редакцией нормы, действующей на эту дату, приводится норма в новой редакции и указывается дата, с которой она вступает в силу.