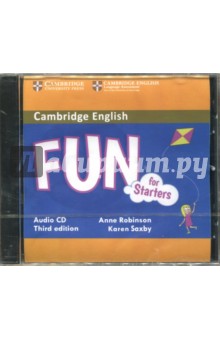 Издательство:
Cambridge
Год издания: 2017
ISBN: 462-3-7207-8035-7
Наличие:
на складе
Third edition of the full-colour Cambridge English: Young Learners (YLE) preparation activities for all three levels of the test (Starters, Movers, Flyers). Fun for Starters Student's Book provides full-colour preparation for Cambridge English: Starters. Brand new content with classroom, online and mobile technology brings this popular series right up to date. Fun activities balanced with exam-style questions practise all the areas of the syllabus in a communicative way and support young learners in the areas they find most difficult. Listening material to accompany the Student's Book is available online for download or as a separate Audio CD. Grammar and vocabulary activities get students practising in their own time in the online LMS via an access code in the book.


Также рекомендуем
Fun for Movers
Fun for Flyers

Fun for Starters
Fun for Movers
Playway to English.

Compact First for

International dictionary of

Professional English 365

Professional English 365:

Книга недели

Настоящее издание содержит текст Федерального закона от 13.07.2015 № 218-ФЗ «О государственной регистрации прав на недвижимое имущество и сделок с ним» с изменениями и дополнениями на 2017 год. К изменениям, вступающим в силу позднее, вместе с редакцией нормы, действующей на эту дату, приводится норма в новой редакции и указывается дата, с которой она вступает в силу.